Cheesy Chicken Brussels Sprouts Casserole
This Chicken Brussels Sprouts Casserole is the perfect fall time meal. Add your own veggies to it to make it fit your family. Freeze the extra servings for another easy dinner!
Yields 4 servings (x2)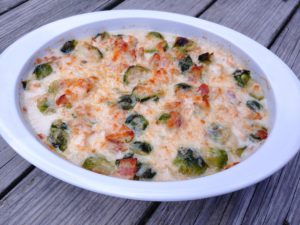 Ingredients
3-4 chicken breasts, cubed
2 ½ lbs. brussels sprouts, halved
1 lb. bacon, diced
3 tbsp. olive oil
7 oz. Pineland Farms Pepper Jack Cheese, 1 bar diced and 1 bar shredded
½ cup Vidalia onion, finely chopped
2 garlic cloves, minced
3 tbsp. salted butter
¼ cup all-purpose flour
3 cups milk
TT salt & pepper
Instructions
Preheat oven to 350°F.
In a large sauce pot over high heat, brown the chicken in olive oil. Add the onions and garlic. Cook until the onions are soft and translucent. Remove from heat and set aside.
In a large sauté pan, render the bacon and toss in the sprouts just long enough to get light coloring. Add the sprout mixture to the pot of chicken.
In the same large sauté pan, add the butter and flour to create a roux. Slowly whisk in the milk. Add the cubed Pineland Farms Pepper Jack Cheese, stirring until thick and bubbly.
In the large pot of chicken and sprouts stir in the creamy cheese sauce. Mix well. Season with salt and pepper to taste.
Divide the contents into 2 greased 9″x13″ baking dishes. Sprinkle each dish with even amounts of shredded Pineland Farms Pepper Jack Cheese.
Bake one dish for approximately 20-25 minutes. You can freeze the other for up to 3 months.
Recipe by Emily McQuarrie