CHEESY CAULIFLOWER AU GRATIN
This cheesy au gratin is full of flavor. The fresh cauliflower is roasted with garlic and garlic olive oil, then mixed with the béchamel sauce and topped with red pepper flakes, more cheese and a crumb topping. It is a satisfying side dish goes great with roasted chicken!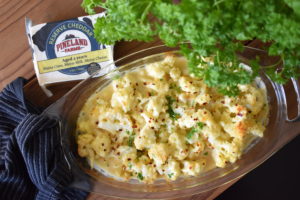 Yields: 6 Servings   
INGREDIENTS:    
2ea Heads Cauliflower, stem removed & cut into small florets
2ea Garlic Cloves, minced
1 Tbsp Olive Oil, garlic infused, we like Fiore Garlic Olive Oil
1 tsp Red Pepper flakes
1 Tbsp Parsley, freshly chopped (Garnish)
Béchamel Sauce:
3 Tbsp Butter, salted
¼ cup All-purpose Flour
1 cup Whole Milk + more for thinning if needed
¾ cup Pineland Farms 2yr Reserve Cheddar Cheese, shredded, divided
¼  cup Parmesan Cheese, grated
¼  tsp Nutmeg
TT Salt & Pepper 
Crumb Topping: 
1 Tbsp Butter, melted
3 Tbsp Panko Crumbs
TT = to taste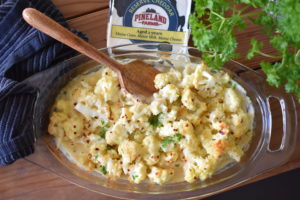 INSTRUCTIONS:  
Preheat oven to 375F.  
In a large mixing bowl, coat the prepared cauliflower in olive oil and work in the minced garlic.  3
Place the mixture in a greased 9 x 13 baking dish and place in the oven for 15 minutes. 
Meanwhile in a medium saucepan melt the butter and stir in the flour creating a roux, cook for 1 minute.  
Slowly pour in the milk while continuing to stir, add ½ cup of Pineland Farms 2yr Reserve Cheddar Cheese and grated parmesan.  
Continue to mix until cheese has melted, and the sauce is smooth.   
Add a pinch of nutmeg and season with salt and pepper. 
Once the cauliflower has finished roasting pour the bechamel sauce into the dish, stir and fluff to coat the veggies. 
Sprinkle with the remaining Pineland Farms 2yr Reserve Cheddar.  
Evenly spread the red pepper flakes over the cheese.  
In a small microwaveable dish melt the butter, toss in the panko crumbs while evenly coating.  3
Sprinkle the panko crumbs/butter over the cheese and red pepper flakes.  
Return to the oven, continue to bake for 10 – 15 minutes.  
When finished garnish with freshly chopped parsley.
Enjoy!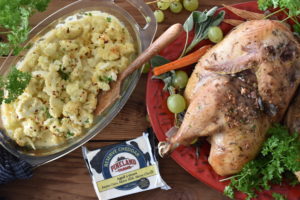 Recipe by our chef, Emily McQuarrie!
PINELAND FARMS DAIRY COMPANY
MAINE COWS. MAINE MILK. MAINE CHEESE.
Find us in the Specialty Cheese Section!