Cheesy Broccoli-Cauliflower-Chicken Casserole
This broccoli cauliflower cheddar chicken casserole comes together quickly and easily. This veggie packed dish is perfect for busy week days and your whole family will love it.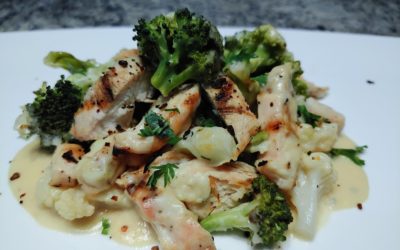 Ingredients:
4 Cups Grilled Chicken, sliced thin
2 Cups Broccoli, blanched
2 Cups Cauliflower, blanched
2 Tsp. Oregano, dried
2 Tsp. Chipotle Pepper Flakes or Crushed Red Pepper
1/4 Cup Parsley, fresh, chopped
4oz Cream Cheese
7oz Pineland Farms Cheddar Cheese, cubed
1 Cup Milk or Chicken Stock
1 Tbsp. Butter, salted
2 Tbsp Flour
3 Garlic Cloves, minced
Directions:
1. In a small saucepan over low heat, melt the butter and whisk in the flour. Combine until smooth. Add the milk whisking until thickened and starts to boil. Add minced garlic, salt and pepper. Slowly mix in cream cheese and Pineland Farms Cheddar. Continue to stir over low heat till sauce is smooth.
2. Transfer your blanched broccoli, cauliflower and sliced chicken to a greased 9 x 13 baking dish. Sprinkle with oregano, salt and pepper.
3. Top vegetable and chicken mixture with the creamy cheese sauce.
4. *optional* Add additional shredded Pineland Farms Cheddar on top before baking.
5. Bake at 350F uncovered for 20 – 30 minutes or until mixture is bubbly and lightly browned.
6. Remove from oven and let rest for 5 minutes before serving.
7. Garnish with fresh parsley and chipotle pepper flakes.
Recipe Created by Emily McQuarrie