CHEESY BEEF STROGANOFF
The leaves are falling, nights are getting cooler, it is time for comfort food!  The Monterey Jack Cheese melts nicely on top of this without needing to put it in the oven.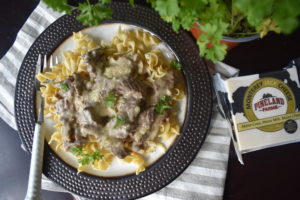 Yields:  6 Servings   
INGREDIENTS:    
2 lbs. Beef strips, thinly sliced (Grilling Beef)
½ cup Onion, diced
1 tsp Garlic, minced
3 Tbsp Salted Butter
3 Tbsp All-purpose Flour
1 ½ cup Beef Broth
1 cup Sour Cream
1 can Cream of Mushroom Soup
TT Salt & Pepper
½ cup Pineland Farms Monterey Jack Cheese, shredded
3 cups Egg Noodles 
*note: TT means "To Taste" 
  INSTRUCTIONS:  
Bring a pot of water to a boil and begin to cook the egg noodles according to package directions. 
In a large skillet over medium high heat, brown the ground beef along with the onions and garlic until thoroughly cooked.  
Drain the ground beef and remove from the pan. Set aside. 
Return the pan to the heat and melt the butter, add the flour whisking to create a roux.
Add the beef broth whisking vicariously to remove any lumps.
Turn the heat up to high, bringing it to a boil for 2-3 minutes until you see it thicken slightly. 
Bring the temperature down to medium and whisk in the sour cream and cream of mushroom soup. Stir until evenly incorporated. 
Add salt and pepper to taste.
If the mixture gets to thick, thin it with beef broth.
Return the cooked ground beef to mixture, stir to reheat, and serve over egg noodles.
Sprinkle with Pineland Farms Monterey Jack Cheese and freshly chopped parsley.    
Enjoy!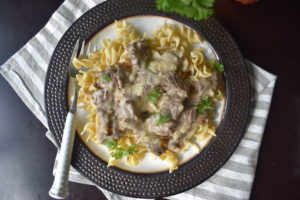 Recipe by our chef, Emily McQuarrie!
Pineland Farms Dairy Company
Maine Cows. Maine Milk. Maine Cheese.
Find us in the Specialty Cheese Section!