Cheesy Asparagus Prosciutto Pastries
Need a quick and easy appetizer that's sure to be a hit?  Try these delicious, flaky puff-pastries wrapped around crisp asparagus and blanketed with the salty + flavorful combo of prosciutto and sharp cheddar! An instant hit that you'll be asked to bring to every gathering!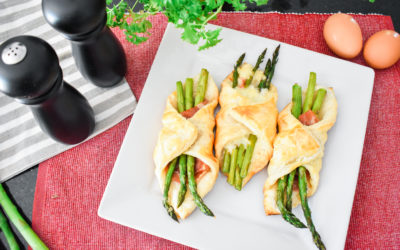 Yields: 8 servings
INGREDIENTS:
1 bunch Asparagus, ends trimmed, blanched, patted dry
12 slices Prosciutto, sliced thin
7 oz Pineland Farms Sharp Cheddar Cheese, shredded
2 sheets Puff Pastry, slightly thawed
1 Tbsp Olive Oil
1 Egg, lightly beaten
TT Salt & Pepper
Note:  TT = "To Taste"
INSTRUCTIONS:
Preheat oven to 425F.
On a lightly floured surface, roll the puff pastry so it is doubled in size. Cut pastry into 6 squares.
In a medium bowl, drizzle the blanched asparagus with olive oil, season with salt and pepper. Mix until evenly coated.
To make the pastries, take a slice of prosciutto, fold it in half and place it on top of each square. Follow with 3 or 4 seasoned stalks of asparagus and 2 tablespoons of the shredded Pineland Farms Sharp Cheddar Cheese.
Lift two opposite corners of the pastry and press them together to seal. Brush with egg wash.
Bake for 10 – 12 minutes or until pastry is golden brown. Serve immediately.
Enjoy!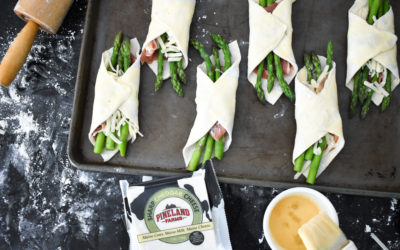 Recipe by our very own chef, Emily McQuarrie!
Pineland Farms Dairy Company
Maine Cows.
Maine Milk.
Maine Cheese.
Find us in the Specialty Cheese Section!