CHARCUTERIE WREATH
This charcuterie wreath is a fun and festive twist on a board that is sure to impress your family and guests!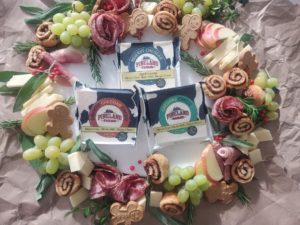 Yields: 8 to 10 Servings 
 INGREDIENTS:  
 2-3 bunches Red Currents (or ½ cup cranberries)
4-6 sprigs Fresh Sage 
7-8 sprigs Rosemary 
4-6 oz Pineland Farms Smoked Cheddar Cheese, cut into preferred shapes
4-6 oz Pineland Farms Reserve Cheese, triangles
4-6 oz Pineland Farms Cheddar Cheese, Cut into preferred shapes
6-8 slices Prosciutto, rolled
10-12 slices Salami, roses
6-8 pcs Gingerbread cookies, Christmas shapes
2-3 Red Apples, sliced thin
2-3 Small bunches Green Grapes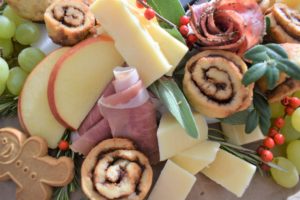 INSTRUCTIONS:  
Cut Pineland Farms cheeses into 1-inch squares or wedges. 
Wash/rinse fruit, pat dry, thinly slice apples. 
Cut and roll cured meats. 
Arrange ingredients in a circular pattern to resemble a Christmas Wreath. 
Garnish with fresh herbs and red currents.
Enjoy!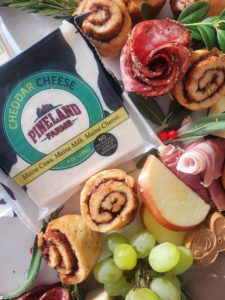 Recipe by our chef, Emily McQuarrie!
PINELAND FARMS DAIRY COMPANY
MAINE COWS. MAINE MILK. MAINE CHEESE.
Find us in the Specialty Cheese Section!