Buffalo Chicken Bacon Ranch Pizza
Skip the pizza delivery, and make an even better pizza at home with our delicious Cheddar Cheese and Ranch Curds.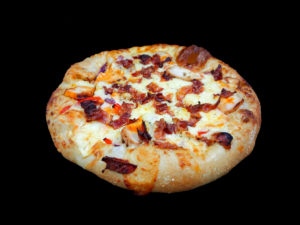 Ingredients
 1-16oz. The Good Crust – 100% Maine Grains Pizza Dough
5 tbsp. Hidden Valley Ranch Dressing
4 oz. Pineland Farms Cheddar Cheese, shredded
3-4 tbsp. Franks Red Hot Sauce, or your favorite hot sauce
1/3 cup red bell pepper, sliced thin
1/3 cup red onion, sliced thin
1 cup grilled chicken, sliced thin
1 pkg. Pineland Farms Ranch Curds
Instructions
Preheat oven based on your pizza dough's instructions. After stretching dough to desired size, place dough on a pizza stone.
Spread ranch dressing evenly over the dough. Sprinkle with Pineland Farms Cheddar Cheese. Pour Franks Red Hot Sauce over the Cheddar Cheese and evenly distribute the peppers, red onions and grilled chicken.
Top with Pineland Farms Ranch Curds and crumbled bacon.
Follow your pizza dough's baking directions.
Recipe by Emily McQuarrie