Broccoli Cheddar Soup
This is the best recipe to kick off the cool weather season. This soup can be altered in many different ways to make it your own! You can use different Pineland Farms Cheddar Cheeses for a mild, sharp, or smokey taste.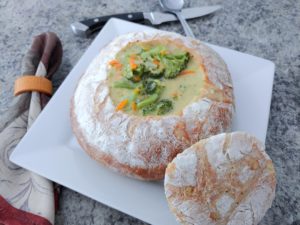 1 Tbsp Better Than Bouillon Roasted Chicken Base
7oz Pineland Farms Cheddar Cheese, shredded (can be substituted with smoked or sharp cheddar)
1. In a medium stock pot saute garlic and onions in butter until tender. Add flour mixing well to create a roux. Slowly whisk in the stock and bouillon base.
2. Add shredded carrots and broccoli. Cover and simmer for 10 – 12 minutes stirring occasionally.
3. Add in heavy cream and mix in Pineland Farms Cheddar Cheese. Continue to stir until melted and evenly incorporated. Season with salt and pepper.
Note: You can create a Beer Broccoli and Cheddar Soup by reducing the stock by half and adding a can of your favorite beer.
Recipe Created by Emily McQuarrie