Breakfast Poutine
Waffle fries topped with Pineland Farms Buffalo Style Curds and all of the breakfast essentials. A non-traditional approach to the classic dish from Quebec that is perfect for any meal of the day. We won't judge.
Yields 1-2 servings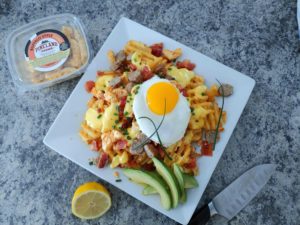 Ingredients
1 lb French Fries, waffle cut
2-3 Bacon Strips, crispy, diced
2-3 Sausage links, cooked, sliced
8oz. Pineland Farms Buffalo Style Curd
½ cup Hollandaise Sauce, prepared (click here for our recipe)
1 Egg, cooked over easy
1 Tbsp Chives, chopped
Ingredients
Preheat your home fryer to 350ºF. Cook a handful of waffle fries for approximately 5-6 minutes or until golden brown and crispy. Place the fries on a plate lined with paper towels to remove excess grease.
In a double boiler prepare the hollandaise as package instructs. For our homemade version, see recipe linked above.
On a clean serving plate, add a mound of hot waffle fries. Top with bacon, sausage, and Pineland Farms Buffalo Style Curds. Drizzle with hollandaise sauce and top with a single over easy egg. You can finish this dish with optional fresh chives. Or just dig in as is!
Recipe by Emily McQuarrie