BLACKBERRY HARVEST SALAD
Summer is winding down, local peaches are ripe, and you can still find local blackberries and kale. Perfect timing to make this Blackberry Harvest Salad. Grilling the peaches causes the natural sugars to caramelize, which spotlights their sweetness and adds a deep, smoky flavor. Combine these local fresh fruits and vegetables with nuts, seeds, dried fruit, a tangy Feta cheese and top with a drizzle of Dijon Maple Vinaigrette for a flavorful salad!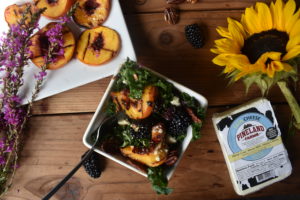 Yields: 4 – 6 Servings 
INGREDIENTS: 
10 oz Kale, deveined & chopped
2+ Tbsp Olive Oil, divided 
2 ea Peaches, pitted, sliced ¼ inch thick
1 cup Pecans
½ cup Sunflower Seeds
1 Tbsp Maple Syrup
TT Salt & Pepper
12 oz Blackberries
4 oz Pineland Farms Feta Cheese, crumbled with a fork
¼ cup Dried Cranberries or Golden Raisins
DRESSING: 
1 tsp Dijon Mustard
1 Tbsp Maple Syrup
2 Tbsp Balsamic Vinegar
2 Tbsp Olive Oil
*note: TT means "To Taste" 
 INSTRUCTIONS:  
Preheat oven and portable grill to 350F.  
In a small bowl drizzle, the olive oil over the peaches, mix to coat, season with salt and pepper.  
Grill the peaches for 3 – 5 minutes or just until they soften. 
In another small bowl combine the pecans, sunflower seeds, coat with 1 tablespoon maple syrup. Season with a pinch of salt.  
Transfer pecan and sunflower seed mix to a sheet pan and roast for 6-8 minutes.  
Remove from heat to let dry and harden.  
Meanwhile In a large serving bowl, season the kale with 2 tablespoons olive oil and season with a dash of salt.  
Massage the mixture so the kale is evenly coated.  
Let sit for 5 minutes to soften or wilt.  
Combine all the ingredients for the dressing in a small jar and mix well. 
Add the softened peaches and roasted seeds to the wilted bowl of kale.  
Top with Pineland Farms Crumbled feta, cranberries, and blackberries.  
Drizzle with the Dijon Maple Vinaigrette.  
Serve immediately.   
Enjoy!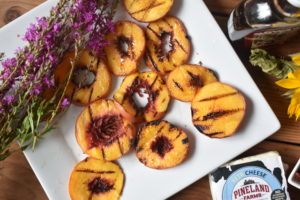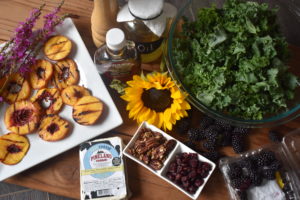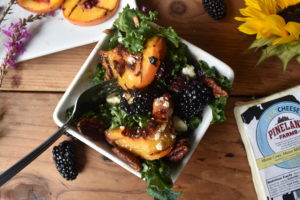 Recipe by our chef, Emily McQuarrie!   
Pineland Farms Dairy Company 
Maine Cows. Maine Milk. Maine Cheese. ⠀⠀ 
Find us in the Specialty Cheese Section!