BIG MAC BOWLS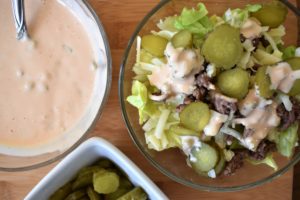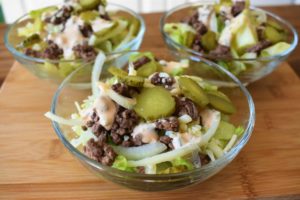 Everyone loves a classic big mac, but did you know you can make a better and lighter version in your kitchen? This recipe packs on the same iconic flavor, but you will sleep well knowing your body received proper nutrition from good foods. Our copycat Big Mac Sauce paired with Pineland Farms Cheddar pairs perfectly with ground beef, crisp lettuce, and tangy pickles. Try these delicious Big Mac bowls and have a great lunch with minimal effort.
Yields: 4 Servings
INGREDIENTS:
1lb Ground Beef, lean
TT Salt & Pepper
1ea Iceberg Lettuce, shredded
½ cup Pineland Farms Cheddar Cheese, shredded
¼ cup Onion, diced
¼ cup Dill Pickle Chips
Dressing
½ cup Mayonnaise
2 Tbsp Ketchup
1 Tbsp Pickle Juice
1 tsp Sugar
2 Tbsp Dill Pickles, diced
INSTRUCTIONS:
In a small bowl combine the ingredients for the dressing, whisk until smooth and fold the pickles in last. Set aside.
In a medium heavy bottomed skillet over medium-high heat; brown the beef, season with salt and pepper. Drain excess fat.
Assemble the salad by adding the iceberg lettuce to a large bowl, topping with cooked beef, Pineland Farms cheddar cheese, onions, and dill pickle chips.
Drizzle with dressing and serve immediately.
Note: You can also assemble into personal portions.
Enjoy!
Recipe by our chef, Emily McQuarrie!
PINELAND FARMS DAIRY COMPANY
MAINE COWS. MAINE MILK. MAINE CHEESE.
Find us in the Specialty Cheese Section!