BEEF WELLINGTON
Beef Wellington and Cheddar cheese both originate from England. If you want to elevate your Beef Wellington for your family or guests, try this recipe that adds Pineland Farms Reserve Cheddar cheese. 
Yields: 4 Servings 
INGREDIENTS:    
1 ½ – 2lbs Beef Tenderloin, room temperature
2 Tbsp Dijon Mustard
2 Tbsp Butter
1 lbs Wild Mushrooms, fine diced (cremini, shiitake, oyster)
2 ea Shallots, fine chopped
2 ea Garlic Cloves, minced
5 -6 spring Thyme, fresh
2 oz Cabernet Sauvignon
8 slices Prosciutto
4 oz Pineland Farms Reserve Cheddar Cheese, shredded
2 sheets Puff Pastry, slightly frozen
1 egg, beaten
As needed Olive Oil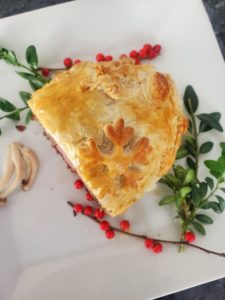 INSTRUCTIONS:  
Prepare the beef tenderloin by trimming away the silver skin and fat.  
Generously season with pepper. Heat a heavy bottomed skillet over high heat until smoking, then add the olive oil.  
Sear the tenderloin on all sides until well browned including the ends. This will seal in the juices, helping later during the cooking process ensuring we get a crispy flaky crust. 
Remove the seared tenderloin from the pan and brush with Dijon mustard while the meat is still warm. Set aside. 
Create the Duxelles by placing the chopped mushrooms, shallots, garlic, and thyme in a hot sauté pan with butter and olive oil. Lightly season with salt and pepper. Continue to cook until the mushrooms remove most of their liquid then continue to cook until browned.  
Deglaze the sauté pan with Cabernet Sauvignon, continue to cook until dry. Remove from heat and let cool.  
On a large piece of plastic wrap (you may want to double layer), lay out the prosciutto by slightly overlapping layers to form a square that will be large enough to wrap the tenderloin in. Spread the Duxelles mixture evenly over the prosciutto, sprinkle Pineland farms Reserve Cheddar, pressing down firmly to pack, then place the tenderloin on one end.  
Use the plastic wrap to help you roll the tenderloin tightly to form a log. Tuck the side in as you roll it up. Twist the ends of the plastic wrap closed, place the tenderloin in the fridge for 30 minutes to ensure it will hold together.  
Preheat oven to 400F. 
Lightly dust your clean work surface with all-purpose flour, then roll out 1 sheet of thawed puff pastry.  
Remove the tenderloin from the plastic wrap, then place it on the puff pastry. Roll it up by tucking the ends under and brushing it with egg wash and along the edge of the seam to seal. If you have excessive pastry, you may cut it away resealing with egg wash. 
After the tenderloin is wrapped in pastry you may want to add a few decorative touches or a lattice topper. Brush with more egg wash if needed.  
Bake for 40 minutes or until golden brown on the outside, and the internal temperature reaches 120F-135F (Rare -Medium Rare).  
Remove from oven and let rest for 10 minutes before slicing for service. 
Note: During the baking process you may need to cover the pastry with aluminum foil so it does not get too dark. If you would like to achieve a greater degree of doneness, you may want to sear the tenderloin a bit more before you wrap it in the Duxelles and pastry. Remember to keep the ingredients as dry as possible to achieve a crispy flaky crust. 
Enjoy!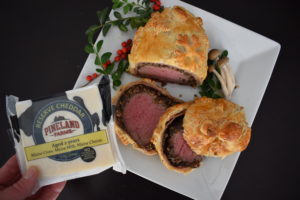 Recipe by our chef, Emily McQuarrie!
PINELAND FARMS DAIRY COMPANY
MAINE COWS. MAINE MILK. MAINE CHEESE.
Find us in the Specialty Cheese Section!