BBQ Pulled Pork Nachos
This recipe is a perfect at home date night snack. Freeze the extra pork to make your next at home date night even easier. You can even customize these BBQ Pork nachos with all of your favorite toppings!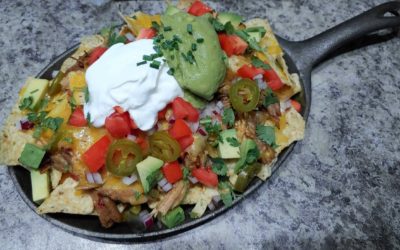 1 pkg Campbell's Applewood Bourbon Pulled Pork Slow Cooker Sauce
7oz Pineland Farms Colby Jack Cheese, shredded
1 Tbsp Cilantro, roughly chopped
1. Place the pork shoulder in a slow cooker and pour the Applewood Bourbon Sauce over the top. Cook as package instructs and/or until meat is fork tender. (About 8hrs.)
2. On a sheet pan or in a cast iron skillet evenly layer tortilla chips and desired amount of pork. Add half of the Pineland Farms Colby Jack Cheese, half the tomatoes, avocados, and red onions. repeat once and then top with sliced Jalapenos.
3. Broil in the oven at 350°F just until the cheese begins to melt.
4. Add a dollop of sour cream and guacamole in the center of the nachos and garnish with cilantro and fresh chives
Note: You will have leftover pulled pork. You can divide into freezer bags and add some of the sauce. Lay flat and store in the freezer for your next quick batch of homemade nachos.
Recipe Created by Emily McQuarrie