Bacon Cheddar and Chive Quick Loaf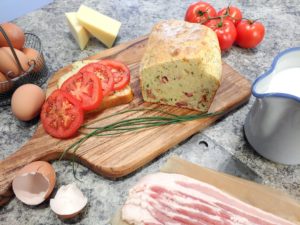 2 ¼ cups All-purpose Flour
3 tbsp Chives, finely sliced
3 lg Eggs, room temperature
1 ½ cup Milk, room temperature
6 slices of Bacon, cooked, drained and chopped
1 cup (4oz) Pineland Farms Sharp Cheddar Cheese, grated
1. Heat oven to 350°F. Spray a 9" X 5" loaf pan with cooking spray. Line the pan with parchment paper.
2. In a large bowl, whisk together the flour, baking powder, salt, and chives.
3. In another mixing bowl whisk together the eggs, milk, and oil.
4. Pour the wet ingredients into the dry ingredients and mix with a rubber spatula or wooden spoon until slightly mixed. Fold in the Bacon and cheese.
5. Bake for 40 – 45 minutes, until a toothpick inserted in the center comes out with just a few crumbs. If the bread is getting to dark you can cover it with a foil tent.
6. Let the bread cool in the pan for 5 minutes and then remove from the pan and place it on a wire rack. Let cool.
7. Cut into slices, spread both inside slices with mayo, slice and arrange fresh tomatoes on bottom half, season with salt and pepper. Enjoy!