Back-To-School Bento Boxes
Bento boxes are part of an ancient Japanese tradition for packing meals!  These decorative containers with small compartments have really caught on around the world!
These boxes give you lots of variety, especially when making lunches for kids to take to school.
We've created a shopping list "cheat sheet" to help you create colorful creations and to help you get through this hectic school year.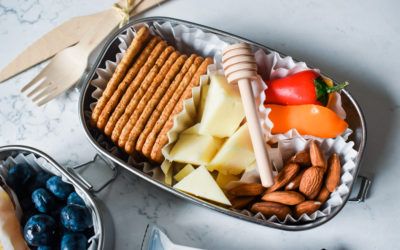 SHOPPING LIST:
Proteins:
Pineland Farms Cheese Curds
Pineland Farms Cheddar or Pepper Jack as Sticks, Cubes, or Fun Cutouts!
Ham/Turkey Rolls
Beef/Pepperoni Sticks
Hard Boiled Eggs
Peanut Butter + Jelly on Mini Waffles
BLT or Sliders with Cheese
Veggies:
Peppers
Cucumbers
Carrots
Peas
String Beans
Celery
Mini Pickles
Olives
Fruits: 
Grapes
Strawberries
Raspberries
Cherries
Apple Slices
Pear Slices
Tangerine Cuties
Watermelon
Honey Dew Melon
Cantaloupe
Raisins or Dried Cranberries
Banana Chips
Dry Additions:
Nuts
Trail Mix
Dry Cereal
Pretzels
Popcorn
Teddy Grahams
Cookies
Marshmallows
Chips
Cheese-Its
Goldfish
Mini Bagels
Muffins
Granola Bar Chunks
Liquid Additions:
Yogurt
Apple Sauce
Pudding
Squeeze Pouches
Fun Condiments:
Nutella
Peanut Butter
Sun Butter
Ranch Dressing
Honey
Jams or Jellies
Drink Ideas:
Milk
Chocolate Milk
Juice
Smoothies
Gatorade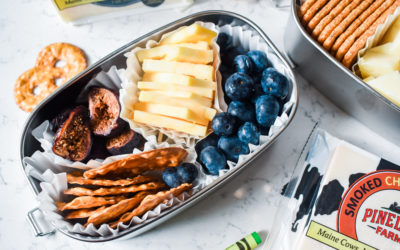 Pineland Farms Dairy Company
Maine Cows.
Maine Milk.
Maine Cheese.
Find us in the Specialty Cheese Section!