ANTIPASTO SKEWERS
Looking for a twist on the traditional antipasto presentation for your next gathering?  Simple yet fun!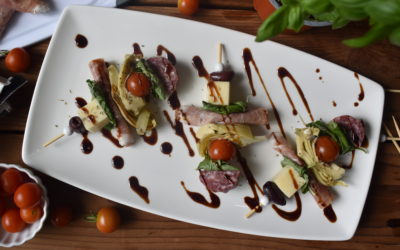 Yields: 12+ 
INGREDIENTS: 
12 ea Grape Tomatoes 
4 oz Assorted Black & Green Olives  
7 oz Pineland Farms Reserve Cheddar Cheese, cubed 
24 Basil leaves, rolled or folded 
12 slices Prosciutto, rolled or folded 
8 oz Salami, cubed 
1 can Marinated Artichoke Hearts, drained 
¼ cup Balsamic Glaze 
TT Italian Seasoning 
A dozen or so Wooden skewers 
*note: TT means "To Taste" 
INSTRUCTIONS:  
Cut Salami and Pineland Farms Reserve Cheddar Cheese into ½" cubes.  
Roll or bunch the prosciutto slices.  
Skewer all the ingredients onto the wooden decorative skewers.  
Sprinkle with your desired amount of Italian seasoning.  
Drizzle with balsamic glaze just before service. 
Notes: Feel free to omit or substitute ingredients to your liking. 
Enjoy!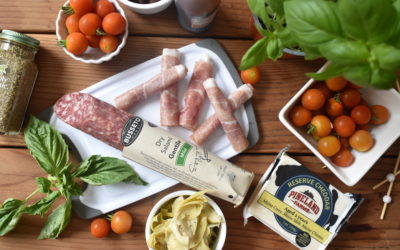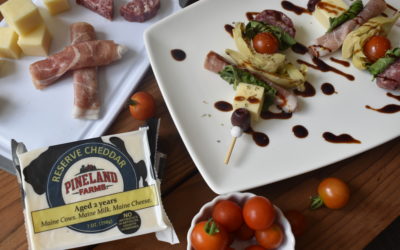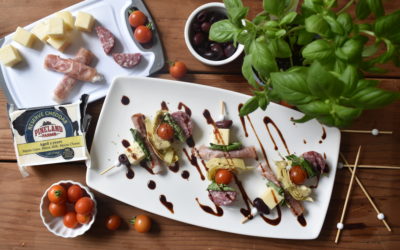 Recipe by our very own chef, Emily McQuarrie! 
Pineland Farms Dairy Company 
Maine Cows. Maine Milk. Maine Cheese. ⠀⠀ 
Find us in the Specialty Cheese Section!