A PARTRIDGE IN A PEAR TREE
Pizza is one of the world's most popular foods. Our friends at The Good Crust make the best pizza dough that we have ever tried. It has been so much fun coming up with pizza ideas that combine our cheese with The Good Crust dough!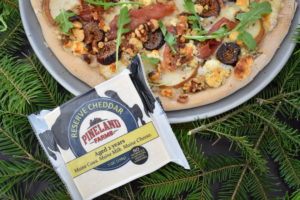 Yields: 3-4 Servings 
 INGREDIENTS:  
 1-16oz. The Good Crust – 100% Maine Grains Pizza Dough
1 cup Pineland Farms Reserve Cheddar Cheese, shredded
6 slices Prosciutto, chopped or torn
½ Golden Pears, sliced ¼ inch thick slices
½ cup Figs, sliced or quartered
2oz. Blue Cheese, crumbled
¼ cup Walnuts
½ cup Arugula Lettuce, washed & dried
2 Tbsp Balsamic Glaze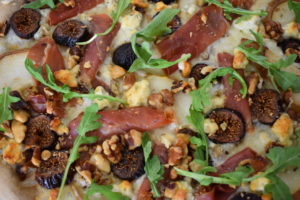 INSTRUCTIONS:  
Preheat oven to 375F.  
After stretching "The Good Crust" to the desired size, place dough on a pizza stone. 
Evenly distribute the Pineland Farms Reserve Cheddar Cheese, prosciutto, pears, and figs.  
Evenly sprinkle the walnuts and crumbled Blue Cheese over the build. 
Bake for 10 – 12 minutes.   
Remove the pizza from the oven.  
Place the freshly torn arugula over the top. Drizzle with balsamic glaze. 
Slice for service.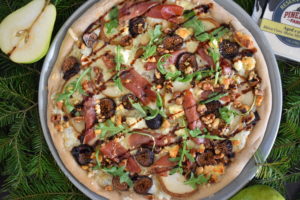 Enjoy!   
Recipe by our chef, Emily McQuarrie!
PINELAND FARMS DAIRY COMPANY
MAINE COWS. MAINE MILK. MAINE CHEESE.
Find us in the Specialty Cheese Section!